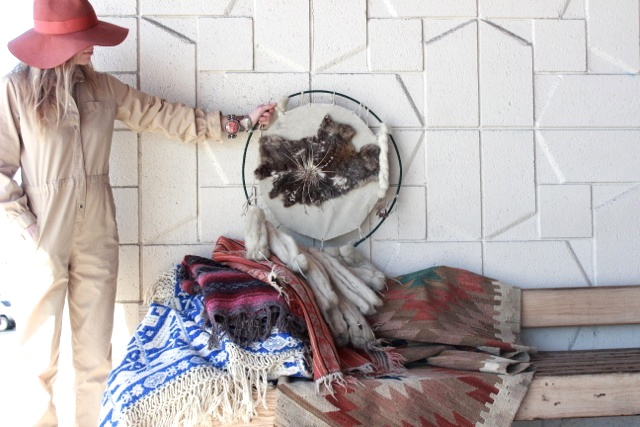 I was recently written up in San Diego Magazine and named Queen of Flea Marketing. It was pretty awesome and I'm honored. I'm also SO grateful for that article. It was so much fun to see that happen because it truly represented who I am as a designer. I love flea marketing. There is no finer hunting. I'm in it for the kill, 'er' I mean the find. I can find a diamond in the rough. I can see the beauty in the worn and thrown away pieces. No question. Most importantly, I can redesign a whole house around one vintage flea marketing find. Flea marketing inspires me. It fuels the creativity in my brain. And well, it's quite addicting. If I didn't have my family commitments on the weekends, I might be out scouting every day. Ok, you get it. I love flea marketing.
When the article was published, one of the owners of Kobey's Swap Meet here in San Diego, asked why Kobey's wasn't mentioned. The fact is that at the time of the article I was a Kobey's virgin! Here's the thing. I'm the kind of girl, when I know I've hit jackpot, I'll keep going back for more. Why switch it up if the gettin's good? I'm loyal. I'm dedicated. I like knowing my hunt will be successful given I can only flea market a couple of times a month. I've been very successful at the Long Beach Flea Market and also the Rose Bowl. But it's also good to expand your horizons and keep your mind open. So I put Kobey's on my 2016 agenda. And last week I got my first taste. I had a very specific agenda to fill; with important items needed for my birthday bash. I was not disappointed. In fact, I was blown away.
It was a lovely experience, quite fun and textile heaven! It's definitely less polished than other larger flea markets, but in a good way. It almost feels like thrifting; each store has it's own sweet little finds but they're all on one gigantic lot.
The first stall that caught my attention was a giant truck loaded with cardboards boxes. Three men were busy unloading what looked like garbage but I knew better; this was organized dumpster diving! I jumped in! I found some items that were actually on my list including a gorgeous copper tray that would look amazing loaded with crystals and cacti for my party. They even offered me the pretty girl discount. Ha Ha! I've never had that before! I loved it.
At the next stop, I met a little old man that either dedicates his life to searching for beautiful one-of-a-kind Native American pieces or hand makes them himself. I also met a man and his son, who are in the rug/textile business together. The father had a lot of knowledge on and love for his pieces. I honestly think he cares more about finding a suitable home or a buyer that will love the pieces, than making money. He gave me a stunning blush PINK wool blanket that I was eyeing. I tried to refuse the gift because I felt guilty taking it without paying. But he wanted me to have it. Smart man! I ended up buying a rug (not on the list) and a textile that I will be draping over my birthday table. These guys will be on my regular shopping routine moving forward.
After spending my sunday there, I'm not sure how I've lived this long in San Diego without shopping it.
See all the great finds below!
*Pictures by Christine Cleary (@superchris77)
xo,
smid