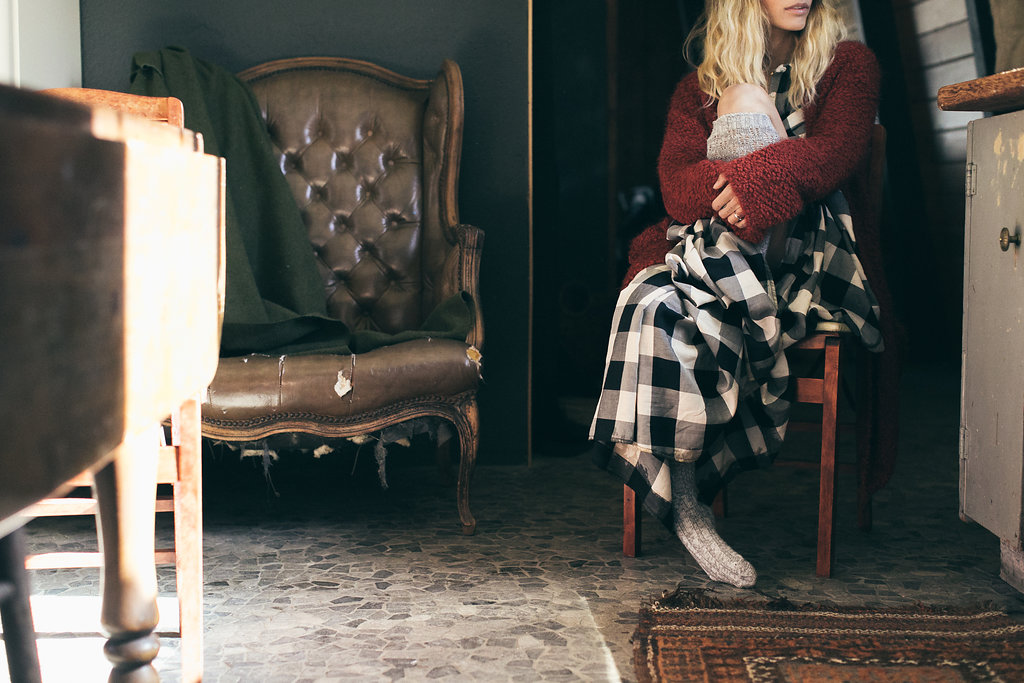 When you hire Smid to design your space be prepared to give up creative control.
You might feel compelled to tell her what you envisioned for the space or show her pictures of what you really love or talk to her about a style that you're drawn to but in my experience it's much more effective to let her lead you.
In fact, the perfect scenario is to give her total control of your project; let her direct the whole thing from demolition to selecting the accessories and you won't regret it. Just ask Rachael Lunghi, of Siren Floral Co. Rachael and her mom knew they wanted Smid to design their AirBnb mountain getaway before they even bought it. When they had narrowed their search down to two properties, Rachael sent pictures to Smid asking her which cabin had the best bones. Smart girl.
What Rachael knows about letting go of creative control comes from her own experience as a creative. As a floral designer she will tell you that her best designs are born when her client gives her full reign and encourages her to follow her heart's desire.
"I wish that all my clients would relinquish control," Rachael admitted during our interview. Giving Smid total control felt right for Rachael. "I knew her process, and I know that Betsy needs to experience things. I went into it knowing that I wouldn't have any control. When we hired Betsy I really just wanted her to do her thing. And I knew she would check in with me."
A Smid. design is a one-of-a-kind, custom design and Smid takes it very personally. She's not just designing a space, she's creating your interior portrait. "She wanted to know what vibe I was after," Rachael explained. "I told her I wanted it to feel cozy without being cheesey."
After confirming a few details, Smid knew exactly how she would create Rachael's interior portrait at The Bear Bitch Manor. Rachael and Smid have known each other for over six years but it doesn't take Smid long to see inside of a client she's just met. She's an astute observer and a keen interviewer that knows how to get the information she's after. She's even better at ascertaining what's really going to work for you in terms of your environment. Once Smid has seen your space and asked enough questions, she's ready to create a design that is uniquely tailored TO you and FOR you.
What was the worst part of not having control? Rachael laughed, "Helping my mom let go of control!" Rachael's mom, Ginni has lots of experience in real estate and renovations so it was an uncomfortable feeling for her to NOT handle things. Rachael was committed to giving Smid total control, "My whole job was to convince my Mamma to completely let go and trust."
"It was so hard for me to see the pieces. I wish I hadn't seen any of them, " Rachael told me when I asked her what it was like seeing sneak peeks of the cabin. "I was told about a velvet couch and I got worried when I saw the actual couch that Betsy had chosen because I had an expectation for something different. I would rather have known nothing."
To show or not to show; inviting a client into the process has its challenges. Perhaps sneak peeks aren't such a good idea. We're learning.
When I asked Smid about the couch she explained, "I normally don't brainstorm design concepts with clients but because the cabin would be so closely tied to Siren Floral Co's brand I wanted to brainstorm some high level ideas with Rachael. I really wanted worn denim in the mix and I envisioned a tufted velvet couch. I had this scrap of vintage mohair velvet on the design board that Rachael fell in love with. It was the perfect denimy blue. When I found the pale rider couch I assumed I would recover it but I couldn't find the perfect blue velvet. We found a blue that was close but I still couldn't pull the trigger. My gut was screaming DON'T DO IT! I'm not kidding. I literally had nightmares about the couch looking like a giant smurf. Despite being stumped on the couch we continued to buy all the pieces for the living room and then we found THE RUG. And at that moment the fate of the blue velvet couch was sealed. It was like the clouds parted and I knew, the pale rider was perfect exactly as it was."
"What was the best part of not having control?" I asked Rachael.
"The surprise of seeing the finished product," Rachael answered with a grin. "I love surprises. It felt like Christmas morning! When I walked in I was overwhelmed with emotions. I walked in and it felt like ME and I had nothing to do with it.
I felt seen.
It was like the best gift. When I work with creatives I always want to give him or her the space to do their best work. It was so special to trust Betsy and watch her do her thing. I wanted her to do all of it. And every detail is so thoughtful."
by superchris
photos ashley kelemen