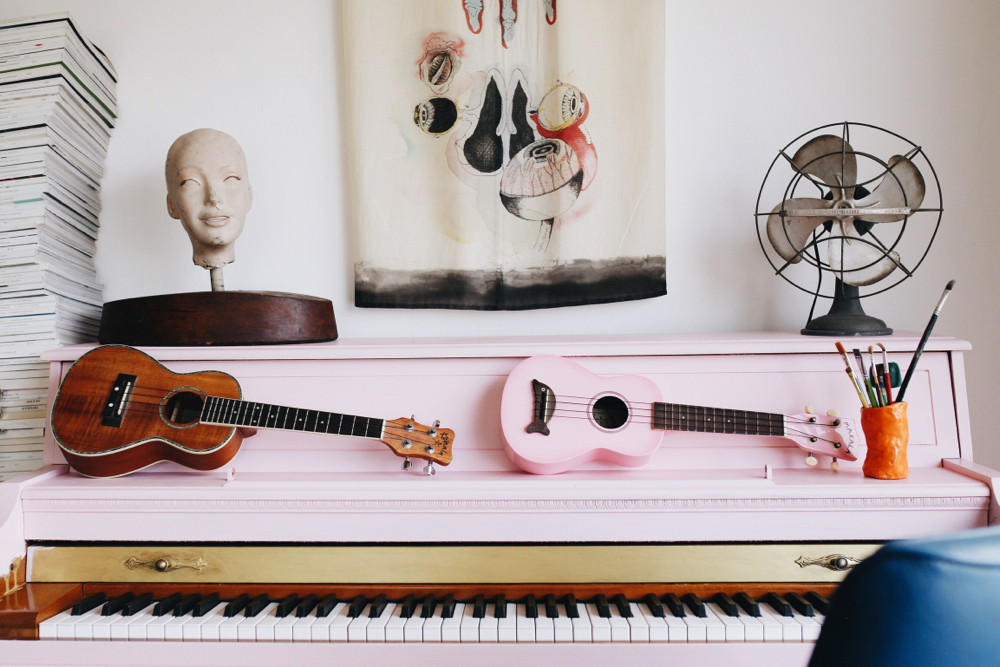 What the heck is it? I'm drawn to the color pink. I LOVE pink. I think. I love seeing pink tufted velvet couches, rich pink vintage satin curtains against baroque wallpaper in old movies. I love pink hair, pink cheeks, pink cotton candy and pink lipstick (although I don't wear it).
I started #mypinkkick on instagram because I realized I was obsessed with taking pictures of pink things and posting them.It makes me happy. I have a pink jumpsuit that you'll spot for miles.  It's SO loud. And a very large pink ball skirt that I love to wear with t-shirts around the house when I'm getting inspired.
But, for whatever reason, when I personally try to execute pink in my home or a design, I cannot seem to execute it where I can also live with it. AND Ugh! It really frustrates me.
I mainly get frustrated because, I dream up the pink in my head. I see it. I like it. I get myself very excited and convinced. Then every time, I open the paint, I say, "Whoa. That's pink." Stewart, my husbands just laughs, because he doesn't understand why I keep trying.
Anyway, this time, I channeled my deepest inner Elton John and painted my piano pink. Well that was fun, because I hate it. Well maybe hate is a little strong. I think it's fun but I seriously can't handle it in my room. I posted pictures of us styling it here anyway for those of you who love looking at pink. But rest assure, I painting it again.
My design definitely lends to the masculine side. I love vintage elegance and always work feminine pieces in to balance this. Pink just seems to throw it way over the edge. For me.
It's a pinktastrophe, me and pink. I can't live with it. I can't live without it. Or maybe???…it's the wrong color pink? 😉
xo
Smid
All Photos by Nicole Moser
Art work by Selby Ginn