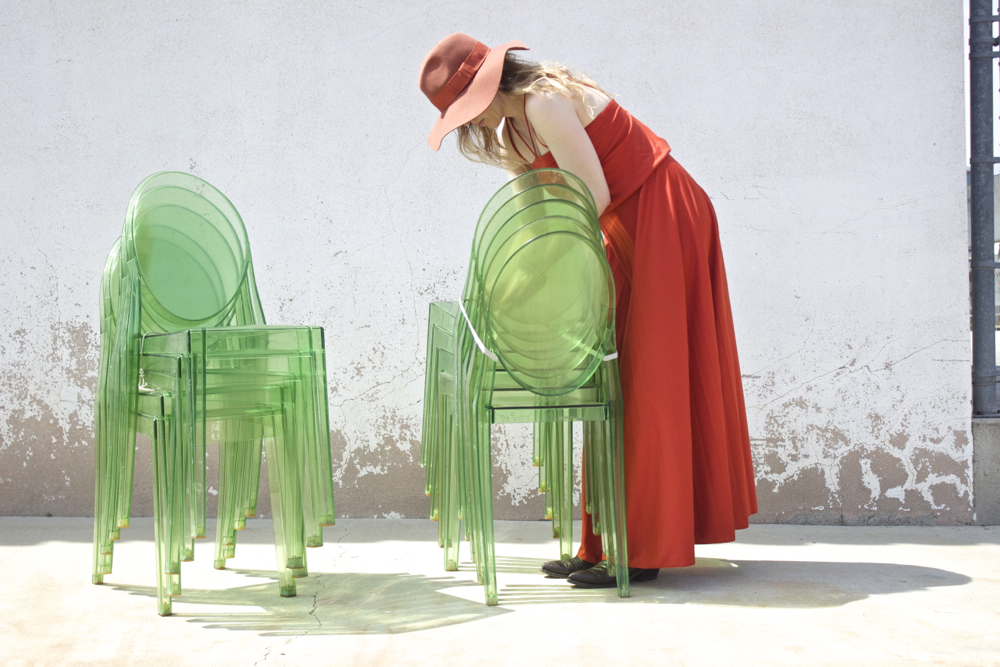 It's true. Kartell chairs were not on my list. But you don't leave a set of 10 Kartell chairs in this color EVER! Here's how it went down. Super Chris and I were shopping at the Long Beach Antique Market. We were on a mission for art work for a couple of clients, a head board and carved salvaged wood for above a fireplace.
I always go shopping with a list. I also always keep the playing field open. Most of my designs have been inspired by unexpected pieces, pieces that are worthy of shaping a room. So I rarely shut down an amazing opportunity. That's what happened when I saw these beautiful green ghost chairs. I know the vendor who was selling these. He knows I'm a sucker for unique vintage anything and always works me hard. But these! These were screaming at me. Especially when I found out there were 10 of them. He had me at two! And then 10? I was dead, helpless and couldn't defend myself. You can see me freaking out in the video below. Compliments of Super Chris.
Anyway, we bought them. Obviously! We know the plan for two of them right now. They will be spear heading the design concept for an office. The rest may just go up in the Smid Shop TBD. We will keep you posted because it's going to be some kind of wonderful.
I did find some beautiful art and feel really good about the selection and checking those off the list. I am always amazed at the variety and the potential of great art at flea markets. In fact, next month we will be visiting long beach with an art consultant. She plans to teach us about finding the right art, the value and what she thinks about when pairing them together. I'm kind of excited about this!
P.S. The really random helmut with spikes at the end. Oh boy! All I gotta say is, YOU JUST WAIT. Long Beach Market is always on point.
Fun Photos/Video by SuperChris, Smid Design Assistant
xo smid