There aren't many things I wouldn't do for a score. A score by my definition is something that is charished, worthy of interior praise and usually in my case, vintage I can't live without. I have been convinced by one of my friends to tell the story about my unexpected furniture pick up in the LA Ghetto. That's exactly where I ended up with this piece.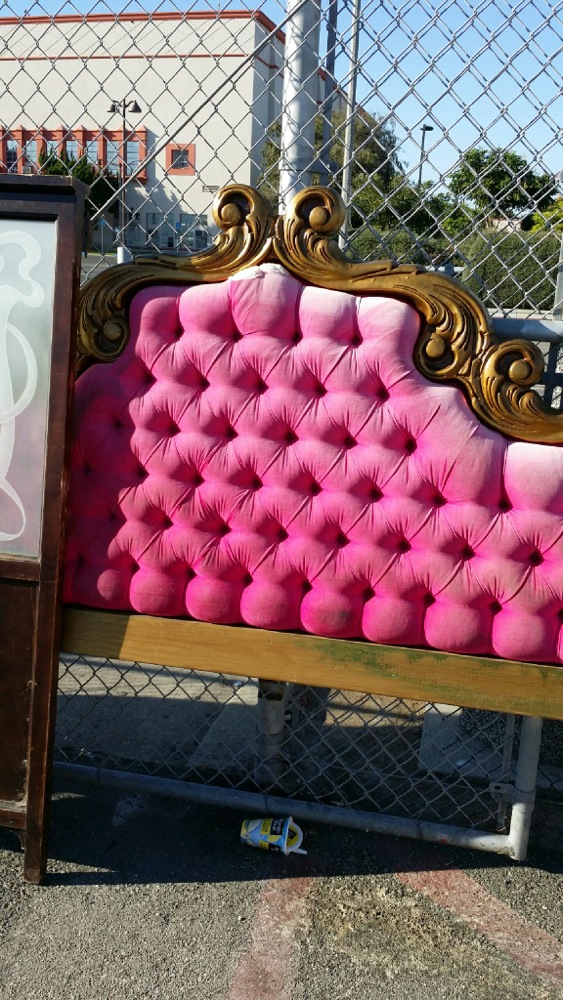 As for a little background, I always drive a truck for my flea marketing trips. For my larger projects, I have rented a 14′ Uhaul. And baby, I have filled that truck from floor to ceiling. Don't doubt it. I have gotten pretty good at putting puzzles together.  Occasionally, I'll purchase more than what my transportation is able to carry.  You may have seen in my recent post, that I'll even throw a large couch on the top of our SUV to get a good find home.
There is one other thing I seem to love to do. I'll fall in love with a piece after I have purchased my maximum capacity or have reached my spend goal for the trip. If the piece is killer, but I don't have the perfect fit for it yet, I will tell the vendor to call me if they don't sell it. I might want to buy it from them. This way, if it was meant to be, it will come back to me easily.
Of course with this piece, my vendor friend didn't sell it. Of course I still had to have it. It was haunting my thoughts since I left it. My vendor offered to deliver it to me in San Diego. I was being a little cheap however and didn't want to pay the delivery fee.  I also had a client meeting the following week just outside of LA and another pickup about 20 minutes from her location. So we arranged for a pick up the same day. I figured it made sense to kill two birds with one stone.
I had planned to borrow a friends pick up truck for the trip. My ole' vintage one couldn't quite handle the long haul up there. That morning, my friend canceled on me…so I took our SUV. I went to my client meeting as planned and then to my first pick up in LA at TINI. I called my vendor from there to let her know I was on the way. Things were going smoothly.  I was having fun and trying to make the most of my trip. So I was taking pictures of dream houses and things that gave me inspiration along the way.
As I was driving to my final pick up, the scenery/surroundings were changing very rapidly. Things weren't as cute or as hip as the few blocks before. I kept thinking it would be fine because the location was only a bit further and kept driving.
Well, it's amazing how much the area can change with only a few more minutes of driving. All of a sudden, the grass wasn't  green anymore. There were no more cute shops. In fact, these shops were boarded up, long forgotten and spray painted over. I'm not exaggerating when I say it looked like a scene out of a gangster movie.  I lived in Brooklyn for gosh sakes. I knew a ghetto when I saw one and would be just fine cruising in and out of one. But the LA ghetto is different. It's next level.
As I turned down the street where the pick-up was, I noticed barbwire on every fence in front of these family homes. I was in a different world. It was then that I realized I was still in a dress and stilettos from my earlier client meeting. I was a FREAKING FLOWER driving a shiny escalade into the ghetto. What was I thinking? I started to second guess my pick up and contemplated turning around, when I saw my lady waving me down the street. As she waved me down, I could see her head shaking in disbelief.
I hopped out of the car and said hello while shaking everyone's hand.  She and her family took one look at me and mumbled, "mmmm hmmm." I had a freaking dart on my head of stupidity. I knew better than to show up to a location without scoping out where it was, especially without dressing the part. So I broke the ice…said something about a nice afternoon drive and my ridiculous outfit. We had a good laugh, then put the head board into the truck. As I was hopping in the car to leave, her brother said to me, "Now Smif. You're heading straight home from here. Right? Not gonna hang around these parts?"
"Yes Sir! Headed straight home. Thank you so much for your help."  "Mmmm hmm," he mumbled, "Thats good. You go straight home now. We'll see you in Long Beach next time."
Once I reached the freeway, I laughed so hard and nearly all the way home. A surprise visit to the LA Ghetto.  It's such a good score.
-Smid