Since moving into the design space, I've noticed that I get so wrapped up in designing other people's homes/projects, that it literally consumes my mind. I'll be mid-sentence and have a design idea pop into my head and I run away with it.  I obsess over the last additions or final details that go into a room.  The details  are what make a space after all.
Fortunately for me, this obsession and kidnapping of my mind, is quite enjoyable.  The challenge I've faced however, is when it comes to my own home, decorating for the holidays or preparing for these traditional dinner parties, has been left to the very last minute. I have failed to meet my own expectation.  I found myself saying, "I'm sorry the linens don't match." Or, "Just grab whatever plates and put them on the table please."  Really? Yes, I know. I am appalled with myself too.
If designing is my obsession and one of the things that makes me insanely happy, why should I look at my own dining room in disgust? I put hours and hours into researching a project to pull all the details together.  Colors and textures should work to compliment each other. I must accomplish the perfect pairing of juxtaposition. Clearly a well designed room is important to me. This is also what I do for a living.  I decided.  I really have no excuse.  This could and should be considered part of my work.
I was sharing all of these feelings recently with my friend, Farra Miron of Hostess Haven. Farra shared the same frustration! I am sure many of you do too. We decided we could partner up to accomplish our goal of staying ahead of the holidays and preparing ourselves better. It's important to us that we enjoy the holiday, enter it calmly and are at peace with our own homes. It started as venting between the two of us and then evolved as a business concept.  We wanted to be able to share this with our viewers in hope that you would get excited about the concept and also gain ideas for your holiday parties. With Farra's incredible taste in vintage glassware and killer table scaping, and my eye for designing the overall space,  it could only be magical, or Smid Haven….Right?  Do you love the name?
For the first of this series, we designed a room for Thanksgiving.  I had been acknowledging that whenever my home had been featured for design, the dining room had never been selected. I too have not posted any pictures. The reason being, my dining room was not quite complete. My taste has evolved and I was growing tired of it.  I have a beautiful antique cream colored dining room table and all matching chairs with blush and green upholstery.  It is a beautiful table. But I like to design with a bit of an edge and with some juxtaposition in play.  We decided to use my space for this first photo shoot to provide myself an opportunity to revitalize my own dining space and get excited about my table again.
Farra and I wanted to do something different for this shoot. Or, we wanted to stay away from the typical browns, burnt oranges and greens, at least in their traditional way of being presented.  We are both obsessed with coppers and well, really any metal at this point. We wanted to show a lighter dining experience with creams, whites and few hints of fall colors.  If you think antiques, traditional vintage, mid-century and some industrial flare can't be paired together. Think again ;).
See how we styled our dining room for Thanksgiving here. What do you think?
– Smid
Photos by Jamie Street Photography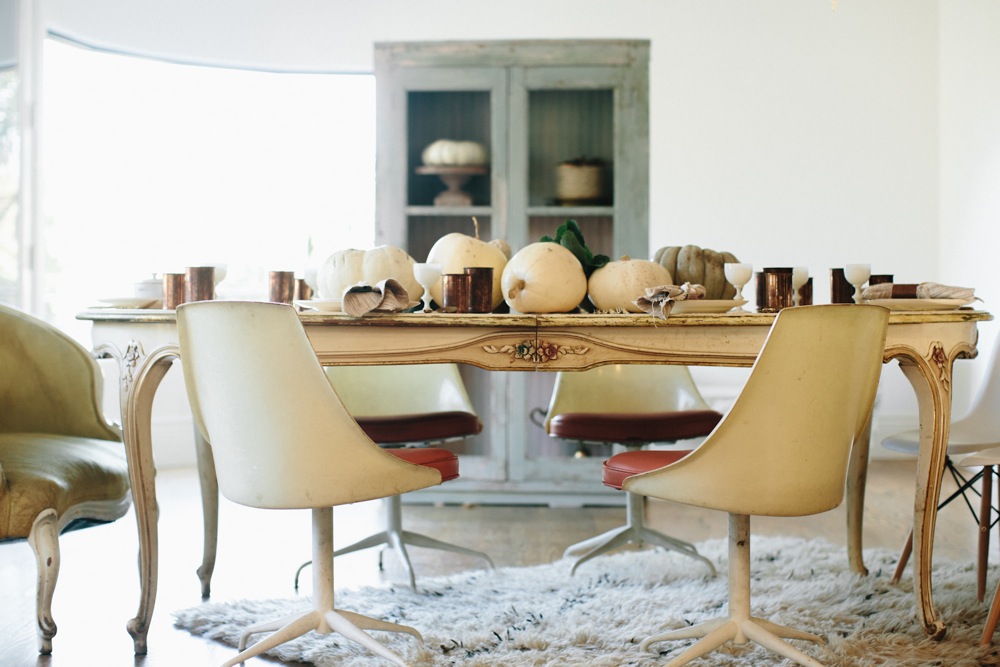 <img class="alignnone size-full wp-image-1713" src="http://www .smidthat.com/wp-content/uploads/2014/11/jamiestreetphotography_hostesshavenandsmidthat_thanksgiving-5-of-47.jpg" alt="jamiestreetphotography_hostesshavenandsmidthat_thanksgiving (5 of 47)" width="667″ height="1000″ />