I went up to LA this weekend to attend a Floral workshop hosted by Design Love Fest and directed by Moon Canyon Designs.  When I arrived in downtown LA's fashion district, I had to pee so bad but I was too early to show up to the event. I couldn't find anywhere to stop.
I finally found a starbucks. I paid $5.00 to park my car at a meter across the street. I b-lined it for the Starbucks only to realize there was no bathroom! What????   I ran out of the Starbucks and ran terrifyingly down the street to the nearest hotel. I buzzed past the doorman, trying to pass for a hotel guest.  Thankfully, I made it. Word to the wise, don't ever enter the downtown LA fashion district without having gone to the bathroom first.
The floral workshop, amazing, but it couldn't have come at a worse time. It also couldn't have come at a better time. I really needed to be home working on all the things that need to be done for the photo shoot in two weeks and the launch party in August. I also desperately needed some tips on flower design. I plan to have the house full of flowers for the photo shoot and for the launch party. I believe that flowers are powerful and that type of detail really makes a difference. I am however, challenged in the flower department. Even if I only have one type of flower and no greenery, it still manages to look pitiful and tightly wedged in there. So this IS really good timing.
Apparently, I am a crammer and a jammer. Maurice from LA's Bloom and Plume shop was assisting at the event. He kept finding himself down at my end of the table reminding me that the flowers needed to breathe and that I just needed to glide the stems in at an angle. Whatever! Every time I went to glide a flower in, it got stuck and then I started fighting with it.  Lol- he was awesome though. He kept coming by after he had re-arranged my flowers and would say, "I like what your doing here." What? That's because he did it! They did turn out great though.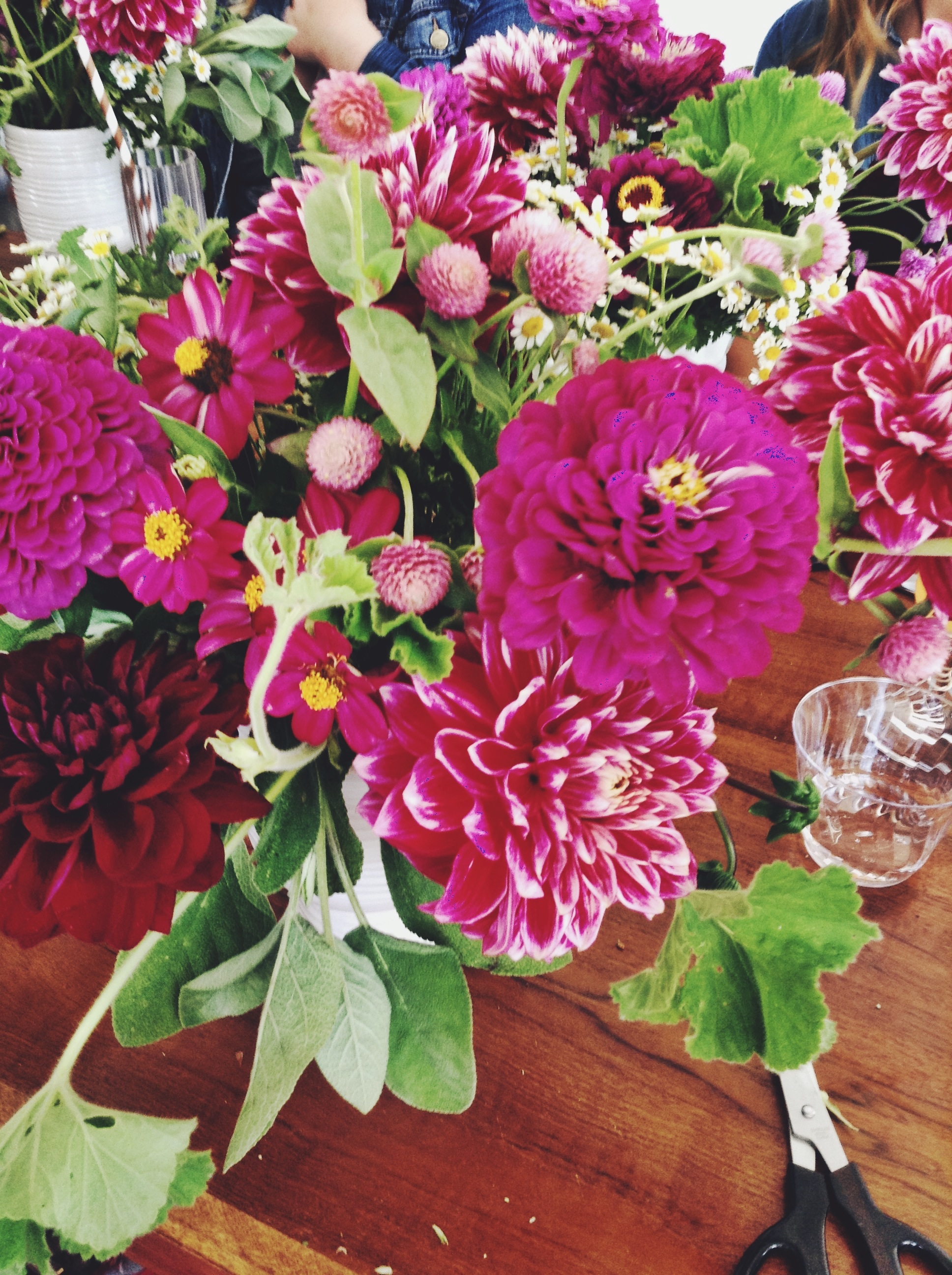 I have to say, that girl Bri knows how to throw a party. The set up was brisk and airy. The food was amazing and she served mimosas! I got a lot more relaxed about my long laundry of things to do. I met some  new friends and handed out a few launch party invites. I learned (with a lot of guidance) how to put together an amazing flower arrangement. Here's hoping I can do it again.
-SMID